TEACHING MUCH MORE THAN JUST JIU-JITSU, THROUGH JIU-JITSU - A truly UNIQUE Kids and Teens Enrichment and Development Program by Professor Greg Hamilton (1st Degree Carlos Machado Blackbelt)

A Message to the Parents of Our Current and Future Kids and Teens...

At Carlos Machado Jiu Jitsu Mid Cities (aka Mid Cities Jiu-Jitsu) our goal is to "TEACH MUCH MORE THAN JUST JIU-JITSU, THROUGH JIU-JITSU".
What does that mean?
As a father of 2 girls and a very experienced Carlos Machado Jiu Jitsu instructor with over a decade of experience teaching kids, teens, adults and LEOs, with way over 1,000 classes taught, it is my priority that all of our students, in particular our kids and teens, can effectively defend themselves verbally and physically if the verbal self defense fails.
However it is also my priority as a father and instructor to teach our kids (and adults) much more than just verbal & physical self defense as well as how to fight effectively if there is no other alternative.
Whether defending yourself or focusing on achieving any goal in 7 steps on the mat or off the mats namely, our Jiu-Jitsu program is one that is truly unique in every way.
This is why I call our kids and teens program a true "Enrichment & Life Skills Development Program" where in addition to self defense and anti bullying, we will teach all of our students the importance of setting goals and planning, that gratitude should be a constant, understanding the importance of a healthy lifestyle and making the right decisions when nobody is watching, the importance of morals, ethics and much more.
Although there are hundreds of ethics and virtues, under my personal leadership all of our instructors will focus on the following 8 ethics:

These 8 virtues are derived from the 3 principles of "Truth, Love & Courage"
"All that is GOOD, or done with GOOD intent, derives from the 3 principles"


If the words above are true, we have an amazing opportunity to empower and enrich the lives of countless students through Jiu-Jitsu simply by honorably utilizing our positions of authority and influence as Carlos Machado Black-Belts. It is our duty to teach every student, especially the younger ones, the true importance of:


Being a leader, not a follower;

Being a shepherd and never a sheep;

Being strong not only physically, but also mentally;

Using our Jiu Jitsu to defend ourselves, our family and friends;

Always respecting our parents, elders, and peers;

Being humble and always setting a good example for all;

Using common sense and not being influenced by the negative;

Setting a goal(s), formulating a plan and executing the plan to achieve the goal set forth;

Overcoming failure by "Always" having the "Forward Only" mindset;

Turning bad positions, into good positions using learned techniques;

Being thankful, aware and mindful;

Being helpful, kind and compassionate to others;

Living a grateful and giving lifestyle especially off the mats;

Knowing that in life & Jiu-Jitsu, you either WIN or you LEARN, there is no losing;

Learning from your mistakes, which is where true lessons are taught & learned;

Making the right decisions, when adults or parents are NOT around;

Accepting responsibility for mistakes and focusing on solutions;

Making healthy food and lifestyle choices off the mat;

Taking care of our health because we only get one body in this life;

And much much more…

As instructors, leaders and mentors, it is our goal to work together will all of the parents so that we can better understand exactly what each student needs to focus on and develop.


A great examle is to simply follow the 7-5-3 Code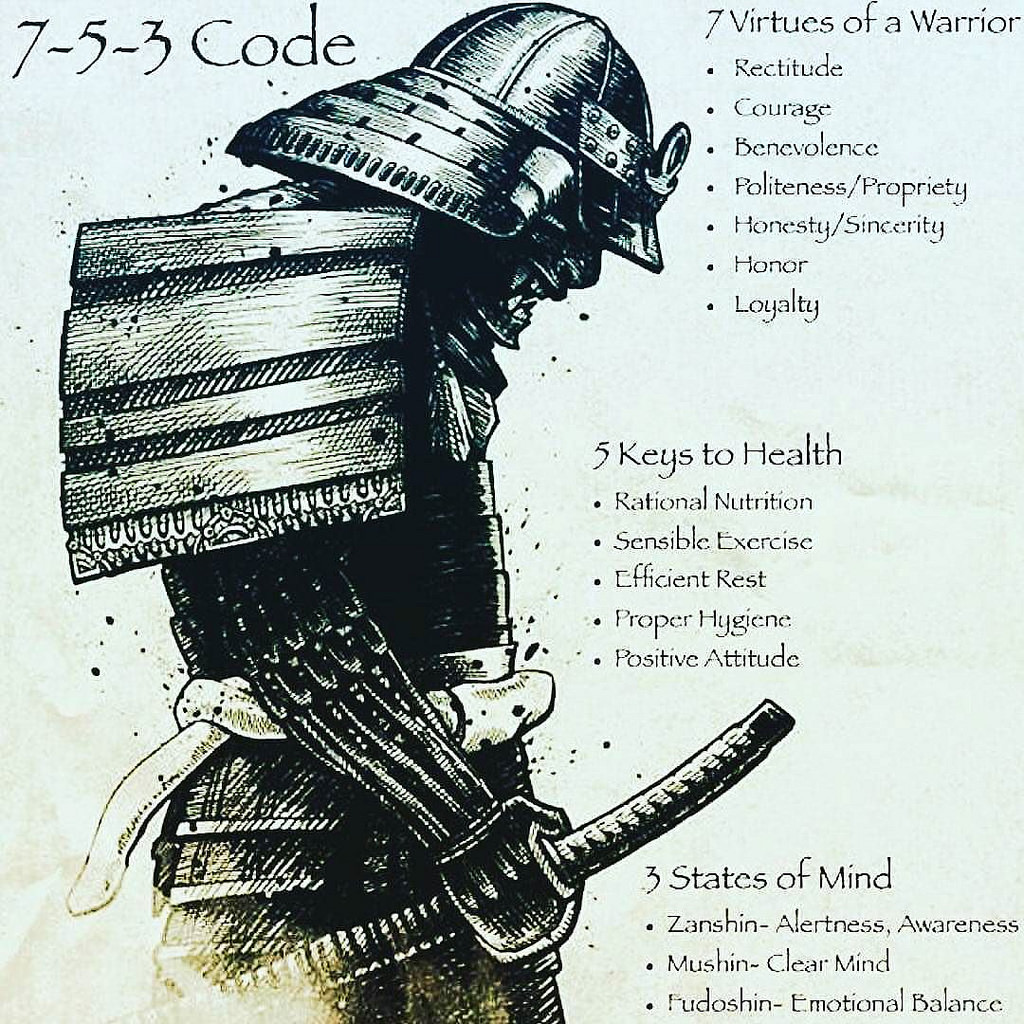 Every child is unique and has specific needs and goals we need to move towards. Some kids need more discipline while others need to be more active. Some kids need to learn how to be strong and know how to defend themselves, while other kids need to learn how to slow down, listen and improve their focus. The list is endless, but together, we are certain that changes for the better will be visible in a short period of time.

In closing, all of us at Carlos Machado Jiu Jitsu Mid Cities would like to thank you for this opportunity to teach your kids much more than Jiu Jitsu through Jiu Jitsu. Please feel free to speak to me or any of our coaches/staff directly so that we can best serve your needs.

Thank you from Greg Hamilton
1st Degree Carlos Machado Blackbelt
(Head Instructor Kids and Adults)
M: 424-400-4333 -
Call or SMS Me Anytime

"You Follow the One Who Believes in Himself. You Hire the One Who
Believes in His Work & You Listen to the One Who Believes in YOU!!!"
BE YOUR BEST. ON AND OFF THE MAT....
THE JIU JITSU STARTS, WHEN THE TRAINING STOPS!!!
Carlos Machado Jiu Jitsu Mid Cities Texas
2843 Central Drive., Bedford, TX 76021
Call/Text/Email 817-888-8082 - CMJJMidCities@gmail.com

www.CarlosMachadoJiuJitsuMidCities.com
Article Written by: Greg Hamilton, Carlos Machado 1st Degree Black Belt & Head Instructor of Kids and Adults Brazilian Jiu Jitsu
#1percentbettereveryday #Forwardistheonlyway #carlosmachado #carlosmachadojiujitsu
#carlosmachadojiujitsumidcitie #rcjmachado #machadojiujitsu #graciejiujitsu #ilivejiujitsu
#jiujitsufromthesource #bjj #jiujitsu #Blackbelt #ilovebjj #brazilianjiujitsu #bjjlife
#brazilianjiujitsulifestyle #jiujitsulifestyle #bjj4life #bjjlifestyle #Texas #Bedford #Hurst
#Euless #Colleyville #BedfordJiuJitsu #EulessJiuJitsu #ColleyvilleJiuJitsu
#HurstJiuJitsu #MidCitiesMartialArts #MidCitiesJiuJitsu