Kids Jiu Jitsu Classes Will Teach Your Child To Grapple With Any Challenge
If you're looking for a way to help your child develop important life skills,make new friends, establish lifelong habits of health and wellness, and have fun all at the same time... well, you've found the solution.
Our team at Carlos Machado Jiu Jitsu Mid-Cities is here to support your child as they grow. We want to help students froma cross Bedford and the Mid-Cities area learn confidence and respect, teamwork and leadership skills, and how to set and achieve smart goals. Join us for our Kids Jiu Jitsu classes and discover the life-changing power of the martial arts for yourself... our certified instructors will make sure the kids are attentive and ready to learn!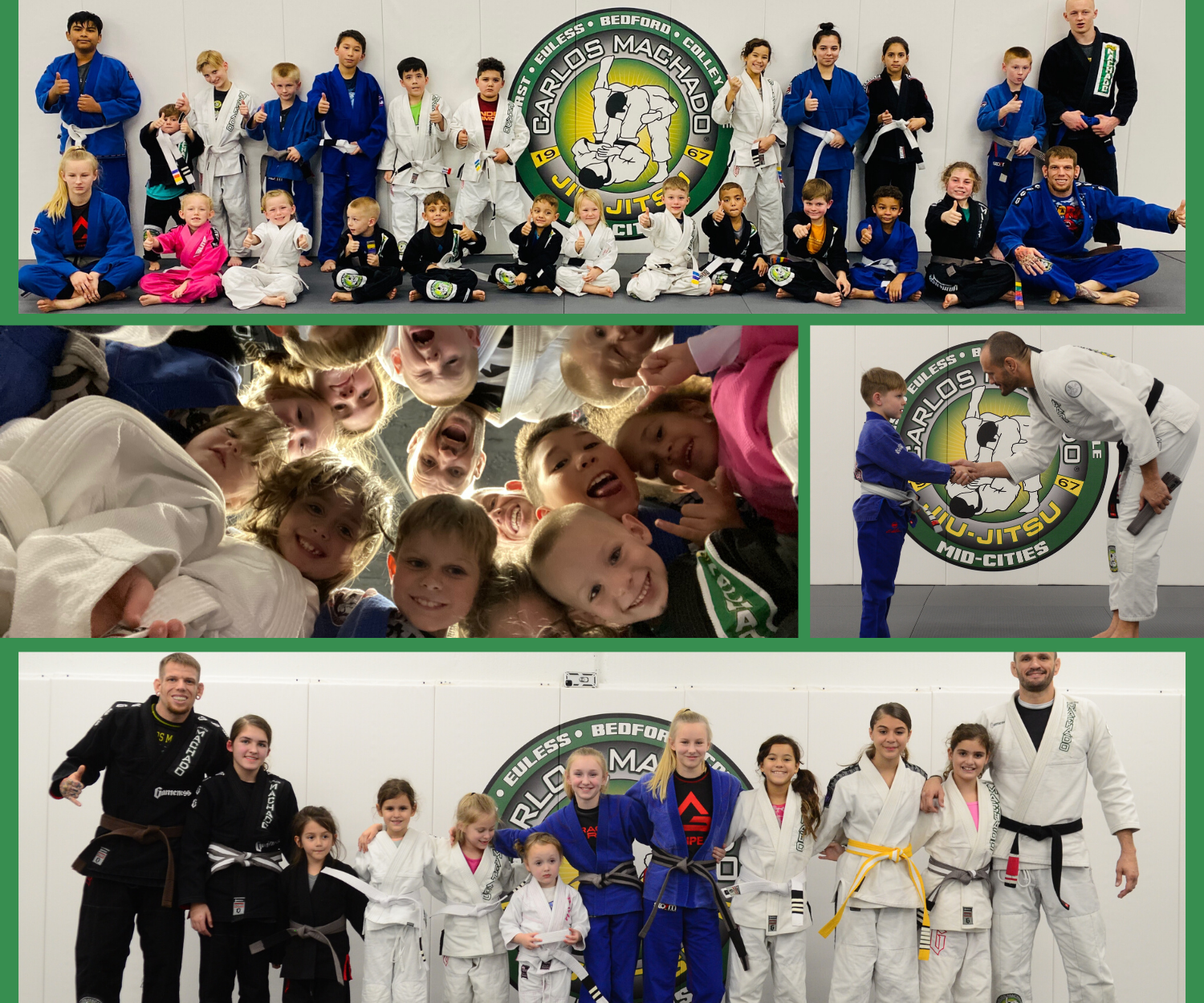 Why Choose Kids Jiu Jitsu?
Kids and Teens Jiu Jitsu classes will help set your child up for lasting scholastic and professional success. In addition to teaching kids and teens effective self defense techniques, we also help them develop critical values on and off the mats. They will learn transferable skills that will help them be better in all aspects of life. As they continually strive toward the next belt, they learn goal-setting and the value of hard work. When they grapple and wrestle with new friends on the mats, they learn teamwork and leadership. When they practice to perfect each technique, they gain discipline and focus.
Come see us in Bedford and learn how our Kids Jiu Jitsu classes can drastically improve your child's life. We start with the fundamentals and build upward, so no child is ever left behind. Carlos Machado Jiu Jitsu Mid-Cities is here to give back to our community, and we'd love to help your child find their passion for Brazilian Jiu Jitsu!
Our Kids Jiu Jitsu classes offer:
Effective Self Defense training
Healthy lifestyle off the mats
Improved discipline and confidence
Enhanced focus and better performance at school
Better teamwork and leadership skills
A wealth of positive role models to offer your child guidance
Plus Our Classes Are Fun and Exciting!
Aside from the tremendous mental and spiritual benefits of jiu jitsu, our kids martial arts program will also help provide your child with lasting habits of physical health and wellness. By practicing Brazilian Jiu Jitsu, your child will gain strength and dexterity, improve their flexibility, and learn to enjoy staying active. We also teach bully prevention strategies that begin with assertiveness and verbal de-escalation tactics and end with verbal self-defense techniques. And if verbal self-defense doesn't work,, we will teach your children how to physically defend themselves, which is one of the most empowering things every child should know how to do.
Join us in Bedford to take advantage of this incredible opportunity!
Our Kids Jiu Jitsu classes at Carlos Machado Jiu Jitsu Mid-Cities give your child:
Empowerment through knowing Self Defense
Setting and working towards goals
Better hand-eye coordination
Improved strength & flexibility
Non-violent bully-prevention skills
Lasting habits of physical fitness
Optional competition training
And much more!
Enroll Your Child In Bedford's Best Kids Martial Arts Today!
Our goal at Carlos Machado Jiu Jitsu Mid-Cities is to help students from Bedford, Colleyville, Hurst, and beyond achieve lifelong success and feel firmly established in their community. Help your child build crucial life skills and build physical fitness by enrolling today!