Our Brazilian Jiu Jitsu Classes Offer Effective High-Energy Fitness, Self-Defense, and More!
Brazilian Jiu Jitsu Is the Most Effective Martial Art In The World
Are you ready for one of the most important first steps of your life? Are you ready to discover a source of empowerment, strength and health like nowhere else? Are you ready not only to learn how to fight, but to also be confident to where yo do not have to? Then you are ready to start training Brazilian Jiu-Jitsu.
At Carlos Machado Jiu Jitsu Mid-Cities, we're offering our students a dynamic, total-body workout that will enable them to grow mentally, physically, and spiritually. Learn about the venerable tradition of Brazilian Jiu Jitsu and get your training straight from the source!
All of our instructors are certified black belts who train with and learn directly from Master Carlos Machado. It is our mission to deliver the best passible experience to kids, teens, women and men of Bedford, Texas and surrounding communities of Euless, Hurst and Colleyville. Enroll in your first class FREE and learn how you can be stronger, more confident, and find an incredibly supportive community and second family through Brazilian Jiu Jitsu. Classes are open to all ages, abilities, and fitness levels.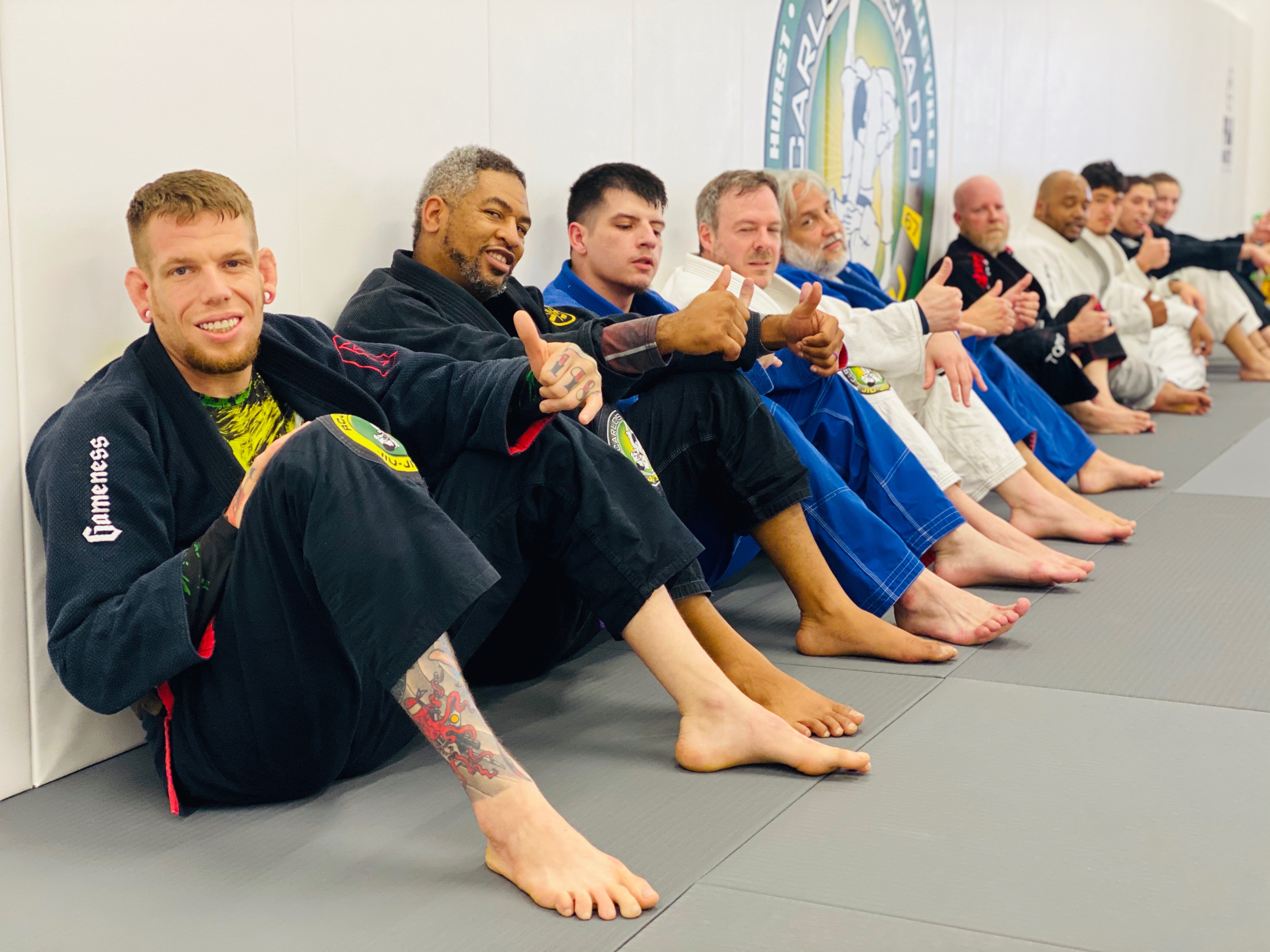 How Can Brazilian Jiu Jitsu Classes Change Your Life?
Brazilian Jiu Jitsu is more than just a sport. It's a life style. We all experience pressure from life, from work, from family, from spouse, kids, and much more. Maintining a balanced lifestyle is difficult due to the daily responsibilities we have to fulfill. Our health and body often gets left behind taking a backseat to the immediate priorities of life like work, family, kids, etc. Leave all of your stresses at the door, come inside of our beautiful Carlos Machado Jiu Jitsu academy, and be in the present moment while you train Jiu Jitsu and simply think about nothing other than the moment of now.
It's a way of navigating through daily life. By training with us at Carlos Machado Jiu Jitsu Mid-Cities, you'll gain unshakable self-confidence, learn physical and mental discipline, become more effective and confident in your workplace and in your life, and much more. Brazilian Jiu Jitsu teaches crucial life skills and helps to relieve stress and anxiety, plus you'll find a whole new community of friends and colleagues... right here in Bedford!
Enroll in our BJJ classes and experience:
Improved physical and mental health
Healthy fat burn and sustainable weight loss
Reduced stress & anxiety
Higher energy, better sleep, & more focus
An incredibly supportive, motivational community
Find your home away from home with us
Brazilian Jiu Jitsu Classes Are Bedford's Best-Kept Fitness Secret
Whether you take a casual approach to exercise or if you're brining a belt with you to your first class, Carlos Machado Jiu Jitsu Mid-Cities is proud to offer a dynamic, high-energy fitness and conditioning regimen that caters to your needs and helps you achieve your goals. Brazilian Jiu Jitsu is totally scalable and adaptable, so no matter where you are in your fitness journey, you'll get a workout that suits your needs.
Our BJJ classes are overseen by veteran Machado blackbelts who will offer you guidance, motivation, and support. In the meantime, you will learn self defense, burn tons of calories and build lean muscle, quickly getting into the best shape of your life physically and mentally!
We're helping people from across Bedford, Colleyville, & Hurst:
Improve mental and physical health
Burn calories & build lean muscle
Gain improved strength, speed, & athleticism
Learn real-world self-defense skills
Grapple with any challenge life has to offer!
Enroll Today and Enjoy Bedford's Ultimate Jiu Jitsu Curriculum
Whether your mission is to lose weight, build muscle, or strive towards that elusive next belt, Carlos Machado Jiu Jitsu Mid-Cities is here to support you, uplift you, and provide you with the best training that the Bedford area has to offer. Join us for your first BJJ class today and leath that Jiu Jitsu is for everybody, especially YOU!