Carlos Machado Jiu Jitsu Mid Cities Is Officially Opening Its Doors On Friday, November 1, 2019 ----> The First Official Adults Class Will Be Held From 12pm To 1:30pm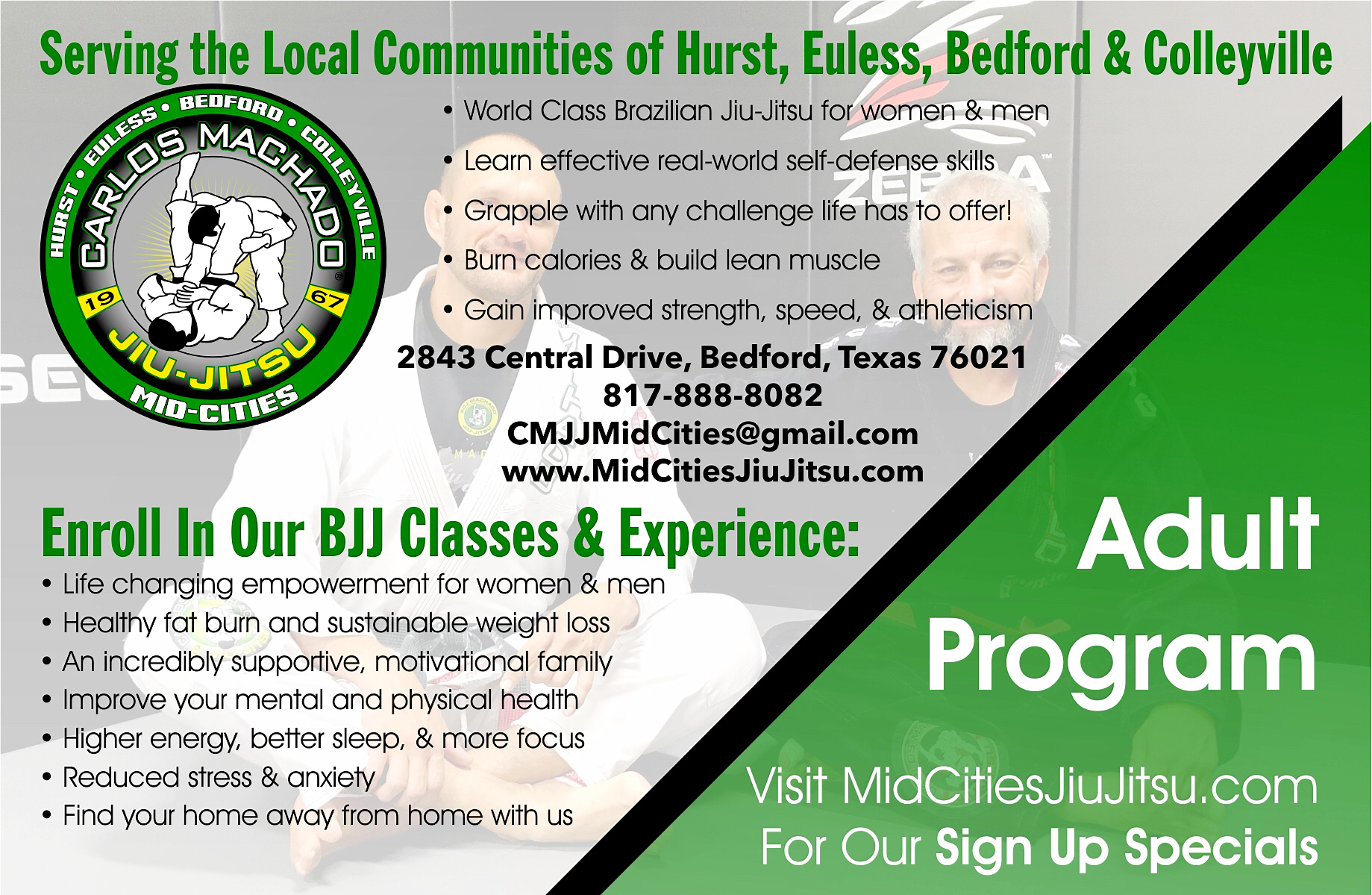 Located at 2843 Central Drive in Bedford, Texas our Machado Jiu Jitsu sign can easily be seen from the intersection of Harwood and Central Drive right next to Dollar General and Big Lots.
With 2 mat spaces and over 2,000 square feet of premium 2 inch Tatami mats, there is plenty of room for all of our programs starting from toddlers, to kids, to teens and adults.
Using a simple and clean decor with a main color pattern of white 6ft wall mats and walls, grey 2 inch Fuji premium Tatami mats and black ceilings, our goal was to create a bright, friend and family oriented environment for all.

We have spared no expense and built a custom sub floor platform that our mats will sit on top of which makes a much safer and softer flooring perfect for takedowns, throws, grappling and training Jiu Jitsu.
Our tuition structure is very simple. Train as much as you can and want. We currently have a First 50 Student Sign Up Special with over $600 Value and Savings when you enroll - CLICK HERE - OVER $600 SAVINGS SIGN UP SPECIAL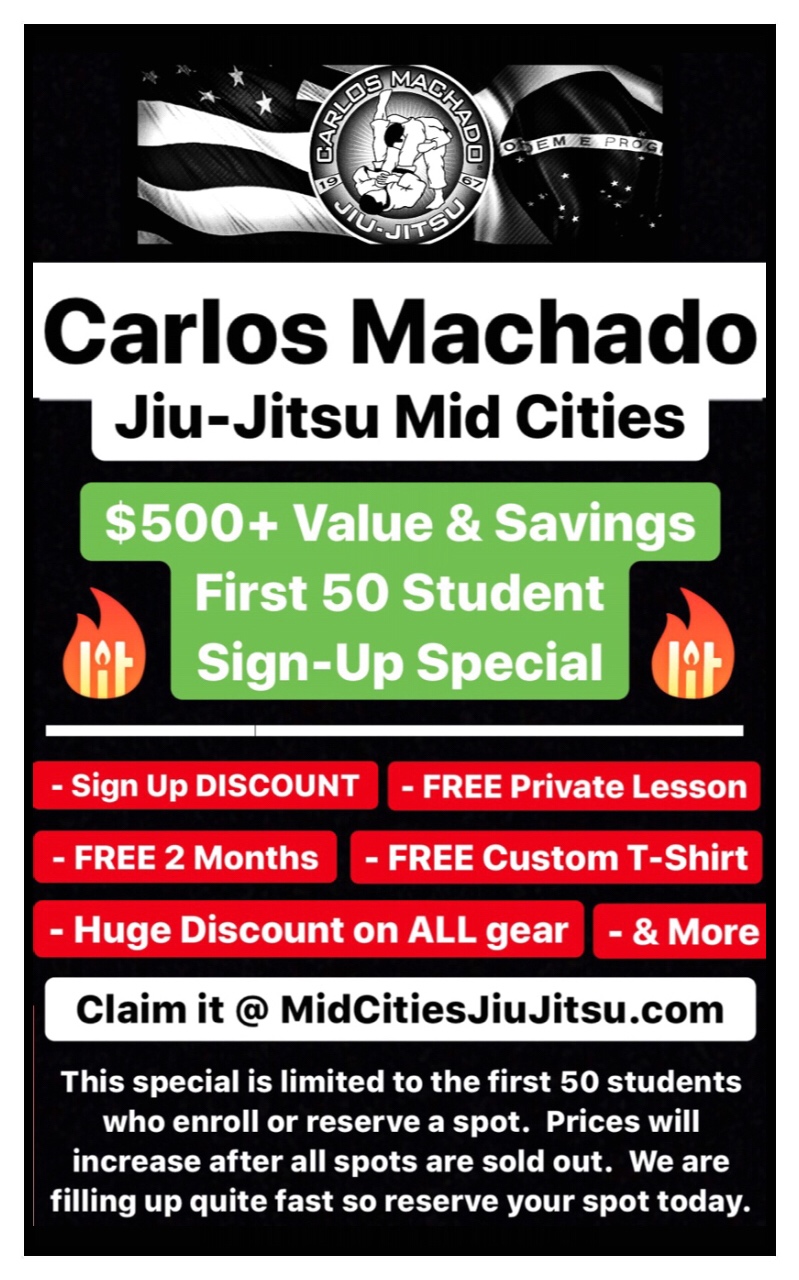 Our Tuition is Unlimited - Train As Much as You Can/Want
Whether kids, teens or adults your monthly tuition includes UNLIMITED CLASSES. Train everyday if you so desire and even twice a day if you can.

Our unlimited schedule is beneficial for parents who make it a priority to take their kids to Jiu Jitsu class daily because they understand the endless benefits and life skills that are passed on to their kids.

Furthermore, all students develop much more rapidly the more they train.
Teaching More Than Jiu-Jitsu Through Jiu-Jitsu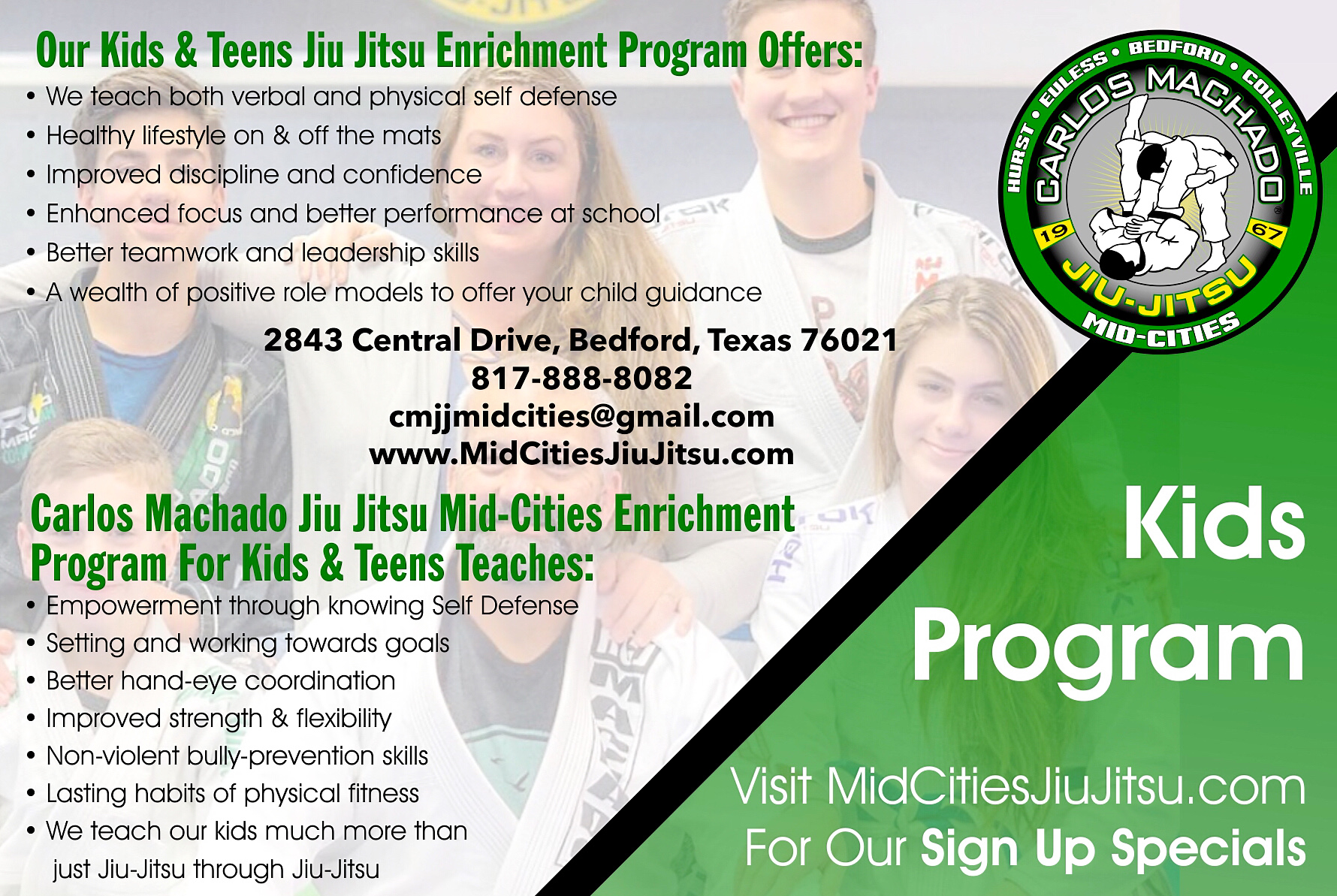 At Carlos Machado Jiu Jitsu Mid Cities (aka Mid Cities Jiu-Jitsu) our goal is to "TEACH MUCH MORE THAN JUST JIU-JITSU, THROUGH JIU-JITSU".

What does that mean?

As a father of 2 girls and a very experienced Carlos Machado Jiu Jitsu instructor with over a decade of experience teaching kids, teens, adults and LEOs, with way over 1,000 classes taught, it is my priority that all of our students, in particular our kids, can effectively defend themselves verbally and physically if the verbal self defense fails.

However it is also my priority as a father and instructor to teach our kids (and adults) much more than just verbal & physical self defense as well as how to fight effectively if there is no other alternative.

This is why I call our kids program a true "Enrichment & Life Skills Development Program" where in addition to self defense and anti bullying, we will teach all of our students the importance of morals, ethics and will teach the how to achieve any goal in 7 simple steps.

Although there are hundreds of ethics and virtues, under my personal leadership all of our instructors will focus on the following 8 ethics:

"All that is GOOD, or done with GOOD intent, derives from the three principles'.
If the words above are true, we have an amazing opportunity to empower and enrich the lives of countless students through Jiu-Jitsu simply by honorably utilizing our positions of authority and influence as Carlos Machado Black-Belts. It is our duty to teach every student especially the younger ones, the true importance of:
Being a leader, not a follower;

Being a shepherd and never a sheep;

Being strong not only physically, but also mentally;

Using our Jiu Jitsu to defend ourselves, our family and friends;

Always respecting our parents, elders, and peers;

Being humble and always setting a good example for all;

Using common sense and not being influenced by the negative;

Setting a goal(s), formulating a plan and executing the plan to achieve the goal set forth;

Overcoming failure by "Always" having the "Forward Only" mindset;

Turning bad positions, into good positions using learned techniques;

Being thankful, aware and mindful;

Being helpful, kind and compassionate to others;

Living a grateful and giving lifestyle especially off the mats;

Knowing that in life & Jiu-Jitsu, you either WIN or you LEARN, there is no losing;

Learning from your mistakes, which is where true lessons are taught & learned;

Making the right decisions, when adults or parents are NOT around;

Accepting responsibility for mistakes and focusing on solutions;

Making healthy food and lifestyle choices off the mat;

Taking care of our health because we only get one body in this life;

And much much more...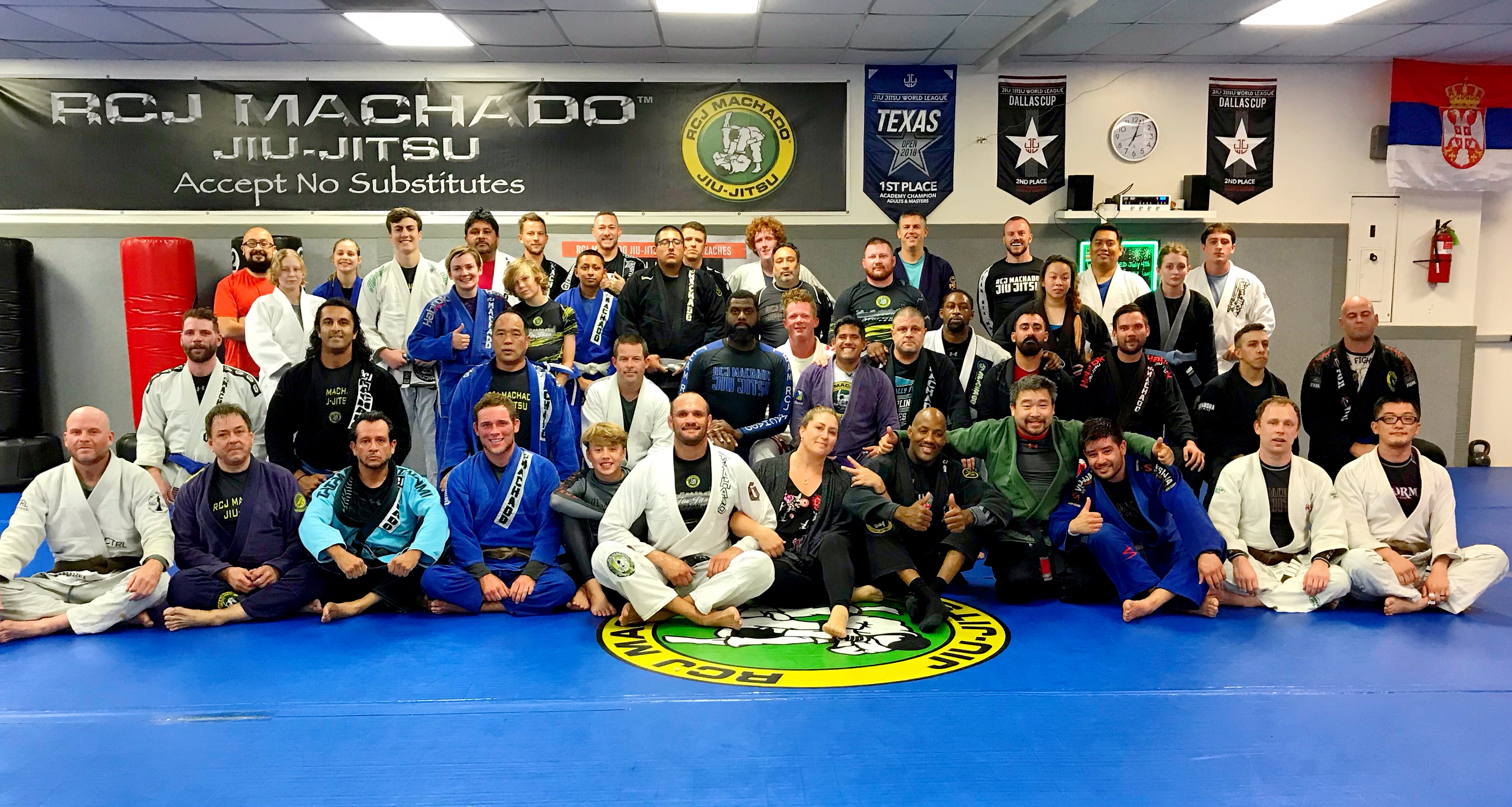 WHAT TO EXPECT ON FRIDAY, OUR OFFICIAL FIRST DAY
The first official Adults Jiu-Jitsu class will start at 12pm ending at 1:30pm. We are expecting our mats to be packed with our brothers and sisters of all color belts from Carlos Machado Farmers Branch HQ academy as well as affiliates near and far.

We will also have a lot of friends who are going to stop by just to support us, for which we are so grateful.
The complete Friday - November 1st, 2019 Schedule will be as Follows:
12:00pm - 130pm - Adults All Levels

4:00pm - 4:30pm - Kids (3-5 Years Old)

4:30pm - 5:15pm - Kids (6-9 Years Old)

5:15pm - 6:00pm - Kids/Teens (10-14 Years Old)

6:00pm - 7:30pm - Adults All Levels


On Saturday we will have 10am to 11am Kids (ALL LEVELS) and Adults ALL LEVELS at 11-1230pm. Starting Monday, Nov. 4th, our normal schedule will start and we can't wait.
Jiu-Jitsu for Law Enforcement is One of Our Top Priorities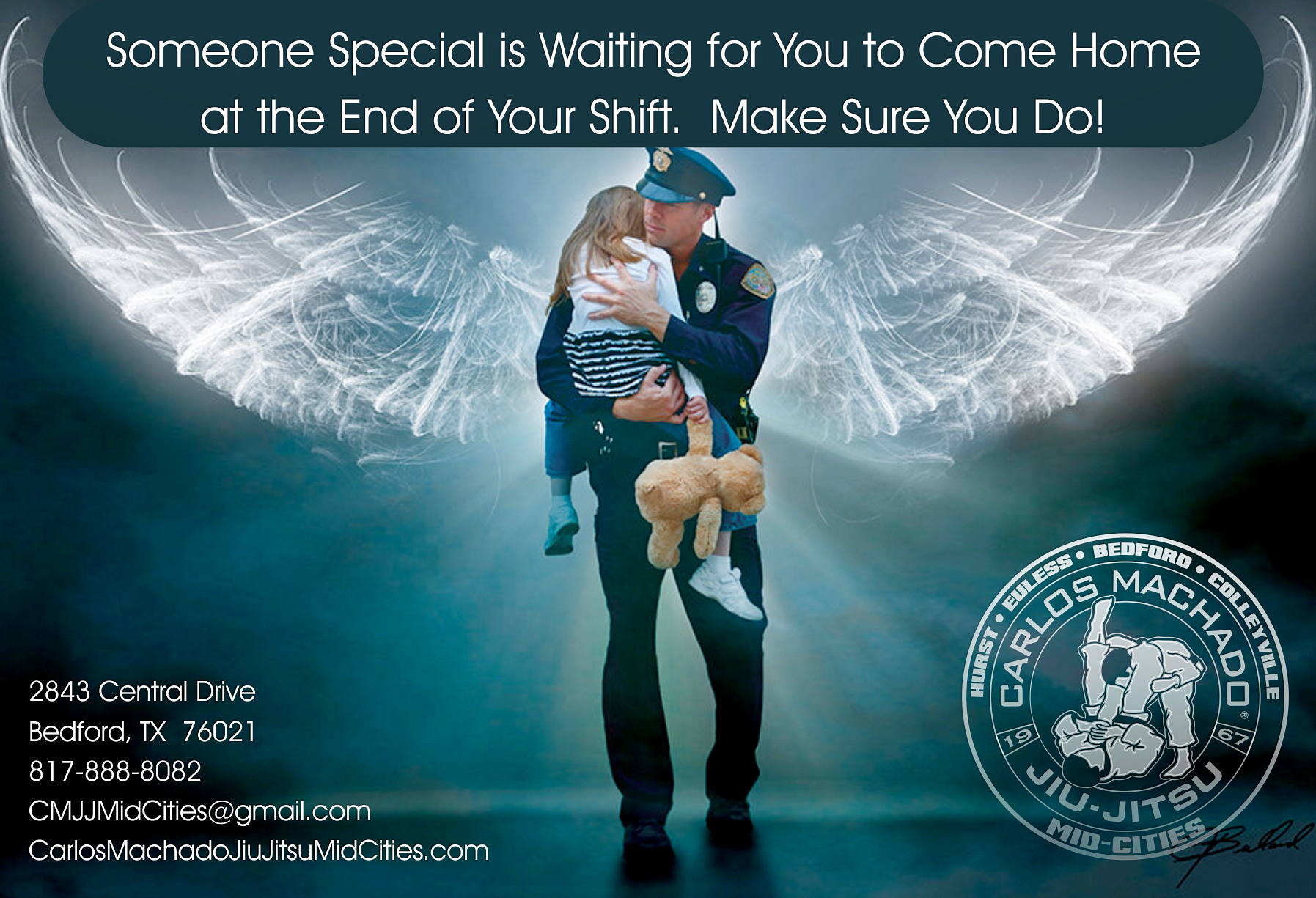 One of my goals was always to make Jiu Jitsu accessible and affordable for ALL law enforcement. This is why we are proud to present our LAW ENFORCEMENT PROGRAM SPECIAL where all LEOs get to train for FREE until their first promotion.
With consistent attendance and understanding of the techniques the first promotion typically occurs at the three month mark, which will save the LEO $450 or even more.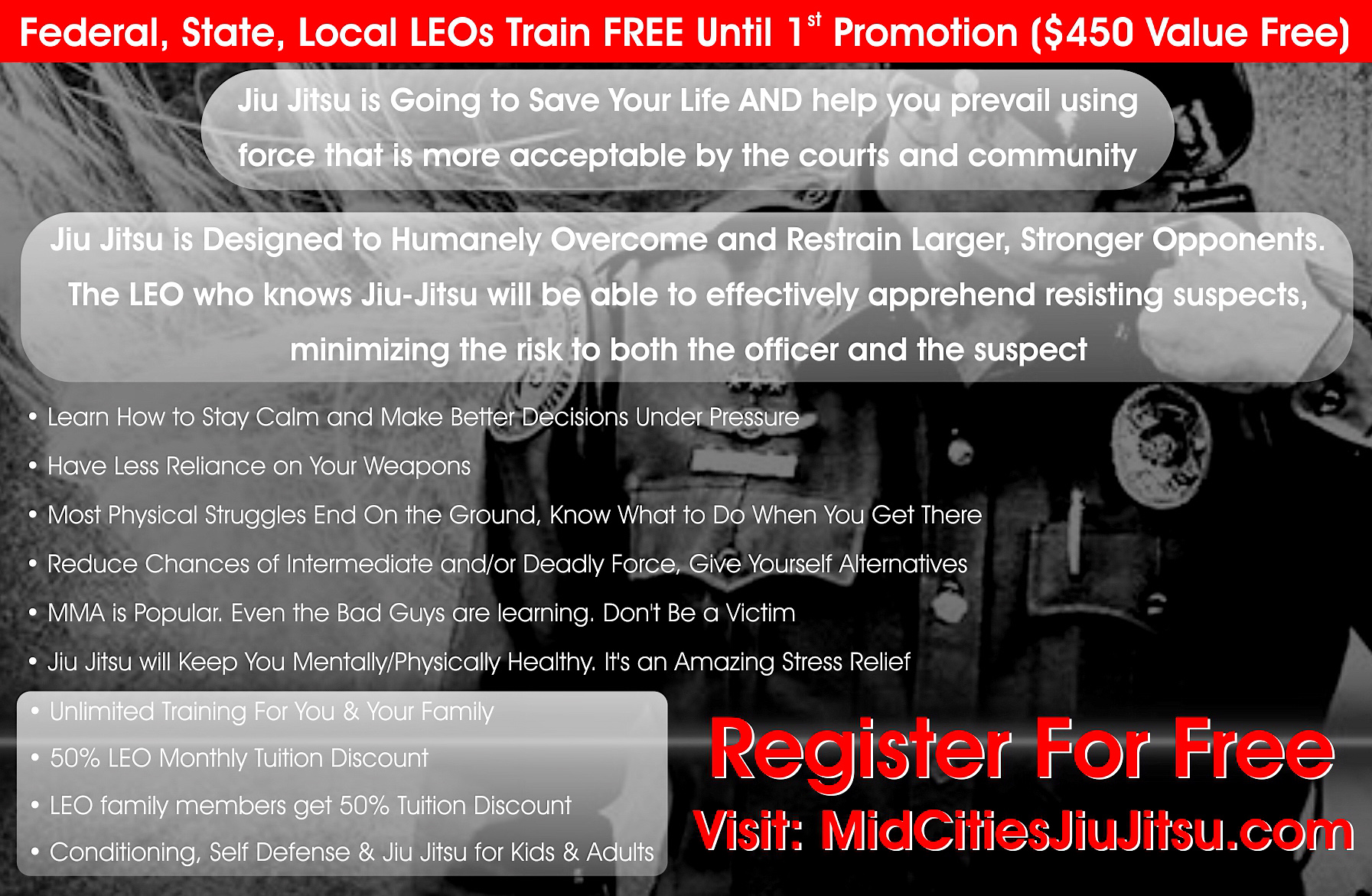 Then we will offer a 50% discount on their unlimited tuition for the LEO and all of their family members who want to train, and we definitely encourage the whole family to train Jiu Jitsu together. It truly is an amazing bonding experience for parents and kids.
The LEO Discount also applies to all active Firefighters who also benefit greatly from training Jiu-Jitsu, staying active and in good shape.

CLICK HERE - FREE REGISTRATION - OVER $600 SAVINGS SIGN UP SPECIAL

We Are Very Grateful To So Many People It's Beyond Words

The road to this day has definitely been filled with lots of challenges and unexpected setbacks. However thanks to Jiu Jitsu, we know how to flow like water and simply go with and around whatever the obstacles may be.

With the help of so many amazing people, we are closer than ever and simply can't wait to meet all of our amazing students in person.

Please visit our website and read about our lineage, program and instructors at www.CarlosMachadoJiuJitsuMidCities.com

If you have any questions, please call me directly at:

Greg Hamilton
Head Instructor of Kids and Adults Jiu Jitsu
2843 Central Drive. Bedford, TX 76021
M: 424-400-4333
W. www.CarlosMachadoJiuJitsuMidCities.com
CLICK HERE FOR GOOGLE MAPS DIRECTIONS

(Located in Bedford, Texas where our Machado Jiu Jitsu sign can easily be seen from
the intersection of Harwood and Central Drive right next to Dollar General and Big Lots)

CLICK HERE - FREE REGISTRATION - OVER $600 SAVINGS SIGN UP SPECIAL