Carlos Machado
Carlos Machado is one of the pioneers of Brazilian Jiu Jitsu in the United States of America. Currently a Coral Belt, and promoted to Black Belt by Carlos Gracie Junior, Carlos Machado came to the USA in the early 1990's with his brothers where they formed the RCJ Machado Jiu Jitsu Association, one of the strongest & growing BJJ organizations in the world today.

Carlos Machado's Jiu Jitsu History
Full Name: Carlos Machado
Current Belt: Coral
Lineage: Kano --> Mitsuyo Maeda --> Carlos Gracie Sr. --> Carlos Gracie Junior --> Carlos Machado
Carlos Machado Biography - Back in Brazil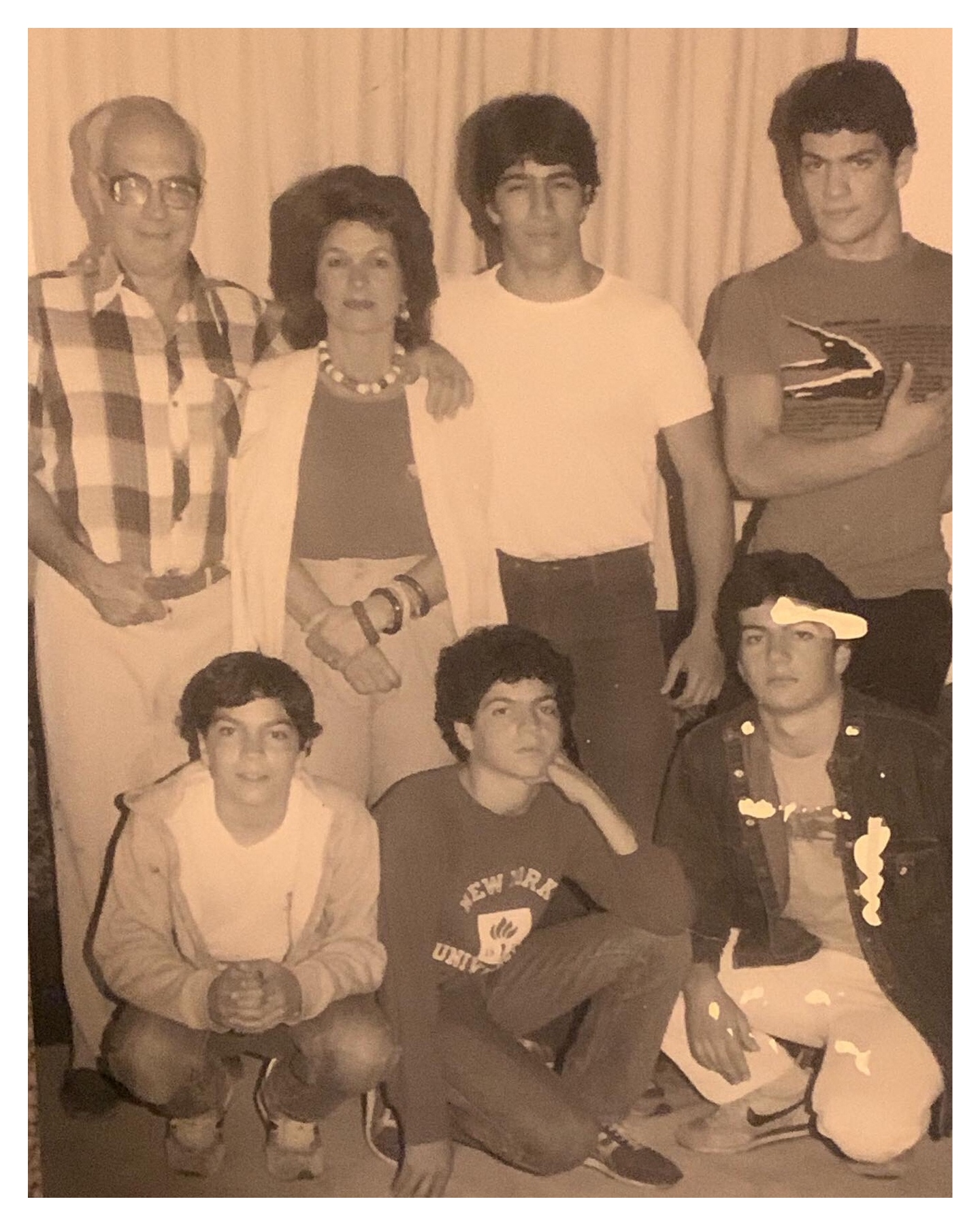 Carlos Machado was born on the 9th of November, 1963 in Rio de Janeiro, Brazil. He is the eldest of the Machado brothers (cousins to the Gracies from Carlos Gracie Senior's sister in law, Luiza Machado).
The Machado brothers consist of: Carlos, Roger, Rigan, Jean Jacques and John Machado.
The legendary Gracie family fighting tradition was engraved in the Machado Brothers from a very early age, and Carlos Machado was no different from the rest of the Gracies, with whom he grew up, trained with and learned from.
Carlos began his training at the legendary Gracie academy where he was taught and mentored directly by his uncle, Grandmaster Helio Gracie. All of the Machado brothers spend a lot of time at the Gracie Compound with all the Gracie kids. They played together, ate together, trained together and simply grew up together. After moving to the southern part of Rio de Janeiro, Copacabana, Carlos Machado was then taught and mentored directly by the legendary Rolls Gracie.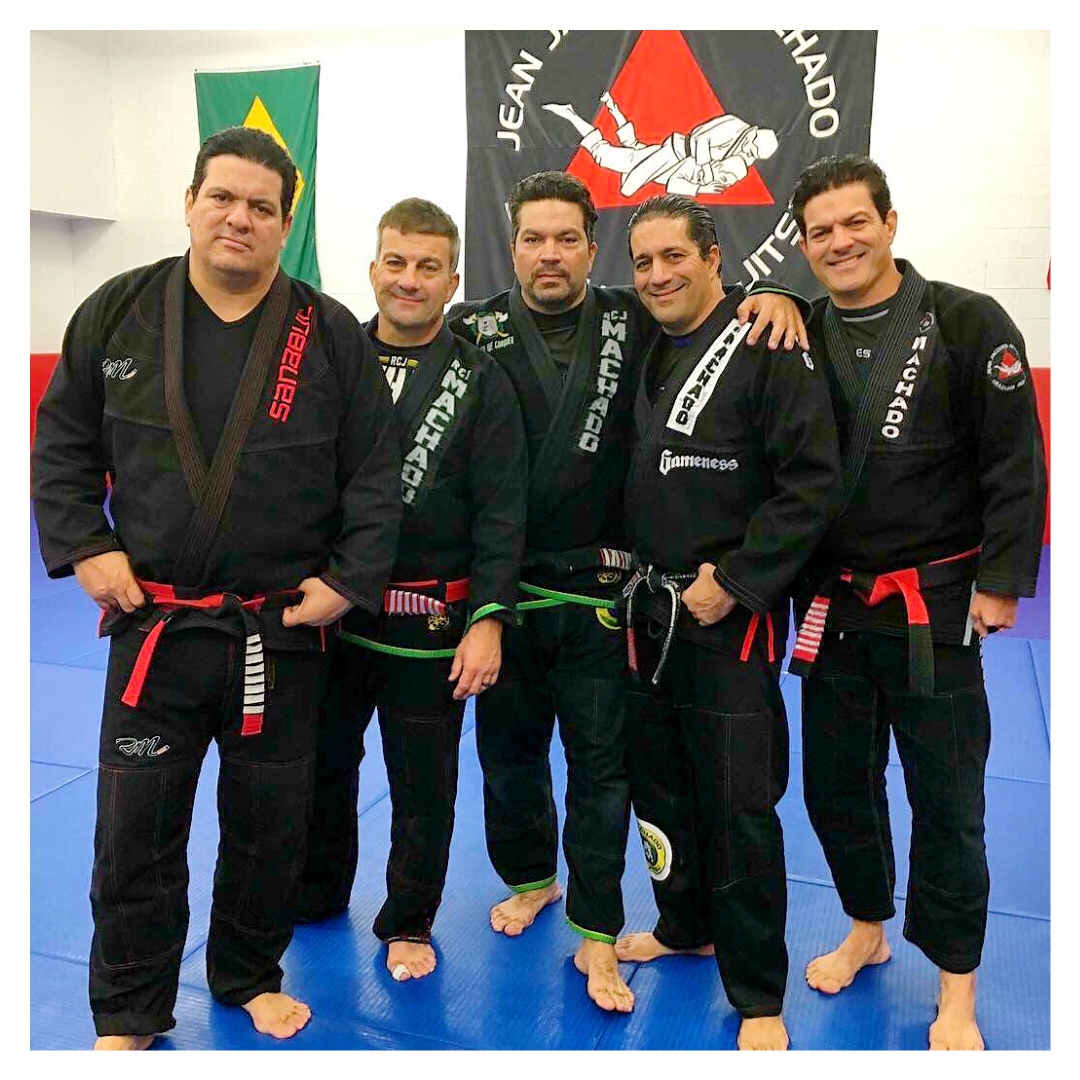 Carlos Machado was very close with Rolls, and trained with him until his sudden and untimely death, which came as a tremendous shock and blow to the Gracie and Machado families and especially to a young and impressionable Carlos Machado (who was a blue belt at the time).
Carlos Gracie Junior (Rolls's half brother and son of Carlos Gracie Sr.) offered to take over teaching some of Rolls Gracie's students including the Machado brothers. The Machado brothers began training under Carlos Gracie Jr. at the Copacabana academy and soon after Rigan, Carlos and Jean Jacques helped Carlos Gracie Jr. open the very first Gracie Barra #1 located in Barra da Tijuca, Brazil.
When Carlos Machado decided to follow his father's footsteps and study law at the University, he moved to Uncle Carlos Gracie Senior's home. Carlos Machado lived with Carlos Gracie Sr. for over 5 years from 1982 until 1987 and during that period Carlos Gracie became a huge influence on Machado's life. Carlos Machado absorbed Carlos Gracie Senior's enormous knowledge and wisdom every chance he had.
In 1988 Rigan and Carlos Machado Move to the United States
I
n 1988 Carlos's brother Rigan Machado moved to the United States to start teaching BJJ with the Gracies out of their now legendary "Gracie Garage". Two years later in 1990, Carlos and John Machado joined Rigan and also moved to Southern California. The original idea was to help Rorion Gracie and the Gracie family build and establish their academy (where Rorion and Rickson Gracie were the head instructors along with Royce Gracie).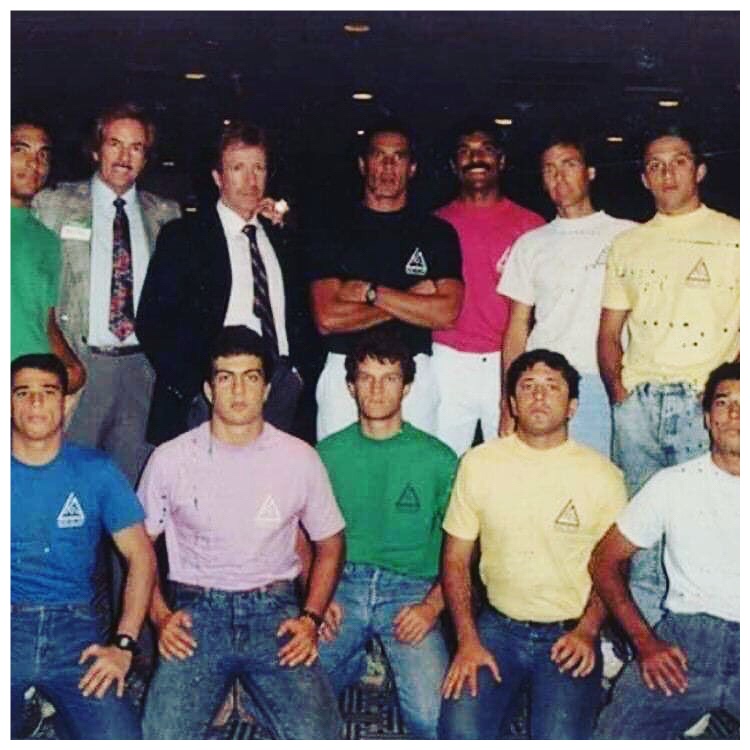 After all 5 Machado brothers arrived in the USA they decided that it was best for them to part ways from the Gracie Jiu Jitsu banner to build their own legacy. The Machados moved from Torrance, Ca. to nearby Redondo Beach and were teaching privates out of their own Garage when a very special future student walked through their door, Hollywood and Martial Arts Legend, Mr. Chuck Norris.
The Important Role of Mr. Chuck Norris
Chuck Norris had always been a martial arts enthusiast and wanted to learn #JiuJitsuFromTheSource so he began training Jiu Jitsu with the Machado brothers to add his existing martial arts knowledge. Since Chuck Norris was an actor and earned a handsome living from TV and Movies, he was fortunate to film for half the year, and have time to train full time the other half of the year when he was not working. Chuck Norris and the Machado brothers became very close friends on and off the mats. Chuck Norris's celebrity brought huge of promotion, notoriety and good fortune not only for the Machado Brothers, but also for the growing martial art of Brazilian Jiu Jitsu.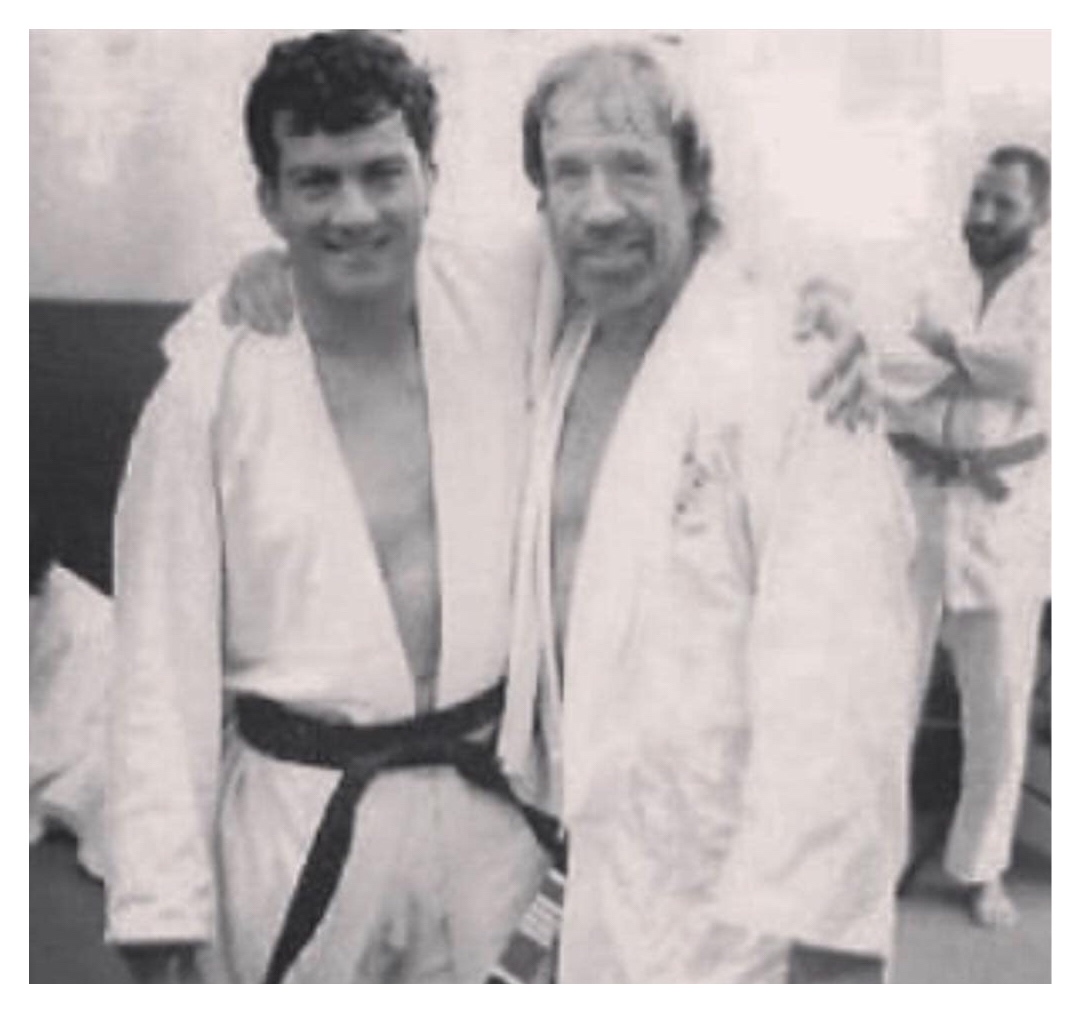 Chuck Norris was so fond of the Machado Brothers that he helped them open their first academy in a shopping center that he owned in Tarzana, California. He arranged a meeting one day with all the Machado brothers in Tarzana, they drove all the way to the San Fernando Valley from Redondo Beach, and saw for the first time a fully setup academy with mats and everything. Chuck did not charge the Machados even $1 for this setup academy and he did not charge any rent as well because he owned the whole building.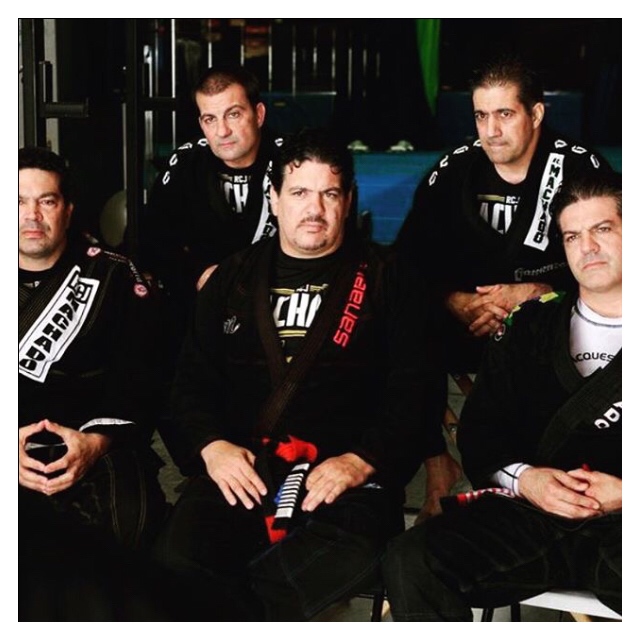 Soon after opening the Machado's academy was so packed they decided to open a second location in Redondo Beach, which was closer to where Carlos Machado lived. The brothers agreed that Jean Jacques and John Machado would be in charge of the Tarzana academy while Carlos, Rigan and Roger Machado would run the Redondo Beach location.
In 1995 Carlos Machado had an amazing opportunity with Chuck Norris and decided to move to Dallas, Texas to start filming Walker - Texas Ranger. Chuck invited Carlos to relocate with him and Carlos decided that it was time to spread Brazilian Jiu Jitsu to Texas and surrounding middle America areas.
Chuck helped Carlos get established in his new home called Dallas, Texas. Carlos Machado appeared in dozens of episodes of the "Walker, Texas Ranger" series during that period, portraying several different characters and usually getting beat up by his very pupil. On one occasion Chuck put a little too much pressure on a choke he held too long and in one of the scenes put his teacher Carlos Machado to sleep.
In addition to teaching Jiu Jitsu to Chuck and acting on the TV show, Carlos started teaching Jiu-Jitsu from the actual studio where "Walker - Texas Ranger" was being filmed. Later, Carlos Machado moved off set and opened a bigger academy of his own. Today, most of the Jiu Jitsu lineage in Texas and the South West area traces back to Master Carlos Machado.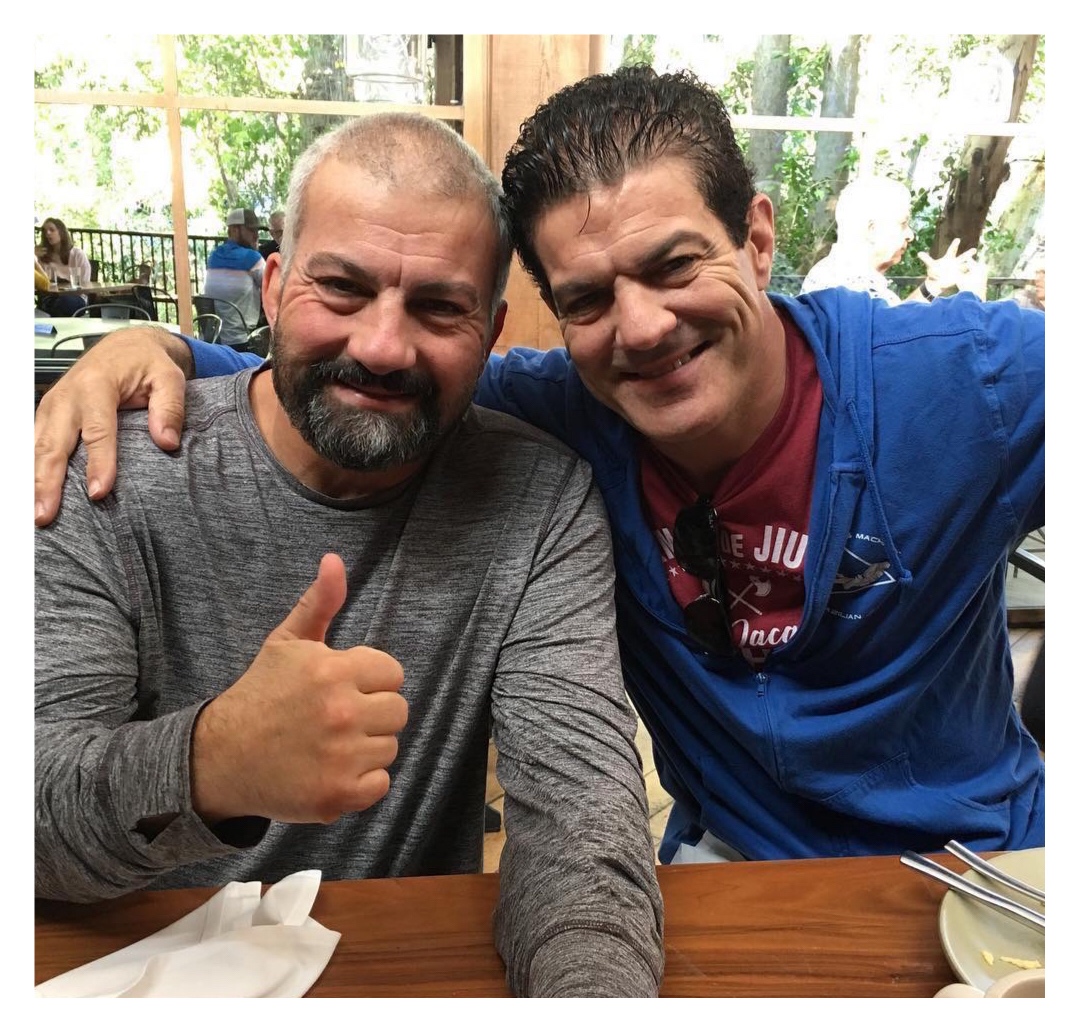 The Machado Brothers Will Always Be Close
Relocating to Texas did not interfere with the closeness Carlos had and currently has with his brothers. Today, John Machado lives in North Dallas near Carlos while Jean Jacques, Rigan and Roger live in the Los Angeles area of Southern California.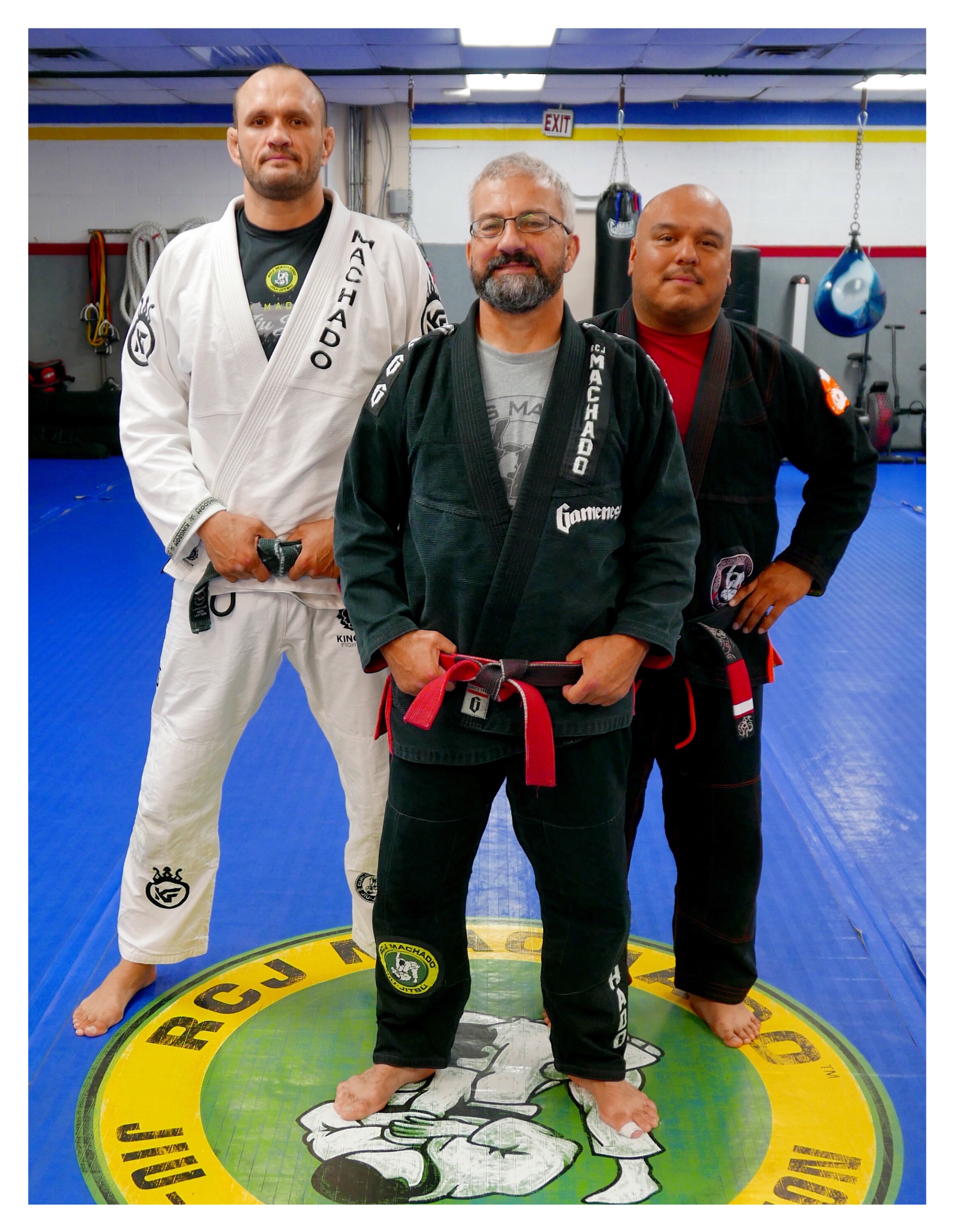 In addition to founding one most successful Brazilian Jiu Jitsu academies in the Dallas Fort Worth area, Carlos Machado has also been extremely successful as a coach of Brazilian Jiu Jitsu athletes who compete and fight professionally.
He has also promoted to Black Belt some high profile BJJ practitioners such as Rafael Lovato Junior (Current 8/2019 Bellator Champion), Travis Lutter (Winner of The Ultimate Fighter and UFC Veteran) and dozens of others black belts who have had a great deal of success in MMA and competitive BJJ and also operate very successful academies.
Teaching, Mentoring and Building His Legacy
Carlos Machado is a Hall of Fame Instructor of Jiu Jitsu and known in Texas and the Southwest region of the United States as the "Godfather of Jiu-Jitsu". Before Carlos Machado relocated to the Dallas Fort Worth, Texas area, nobody was teaching Brazilian Jiu Jitsu. Today most of the BJJ lineage in Southwest area can today can be traced back to Carlos Machado.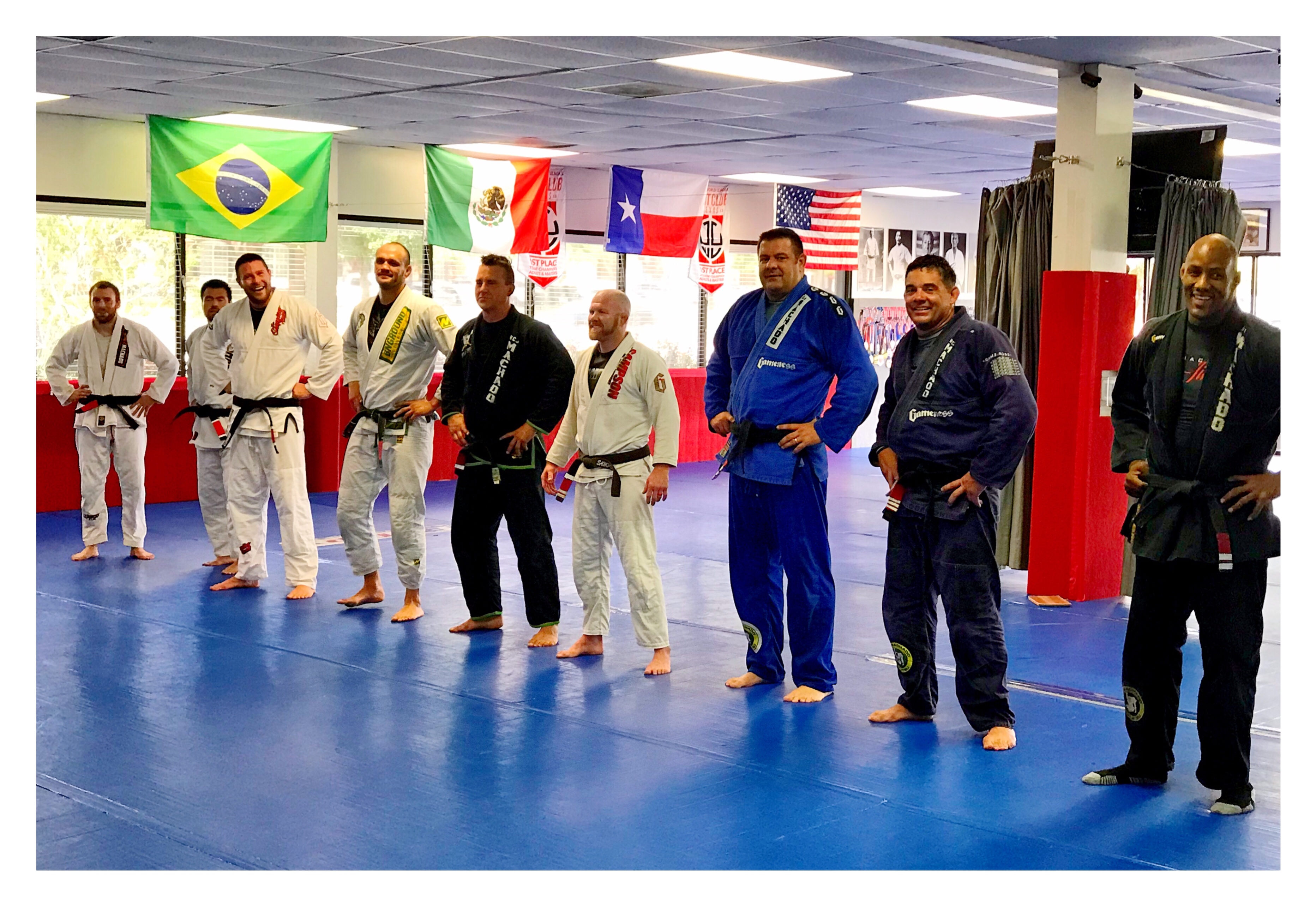 Carlos Machado's Headquarters academy is located in North Dallas, Farmers Branch, Texas where he personally teaches all of his students from kids, teens to women and men. Master Carlos actively trains with all of his students, especially his black belts who are always developing and progressing under the direct supervision and tutelage of their Professor who is known as a true legend of Brazilian Jiu-Jitsu.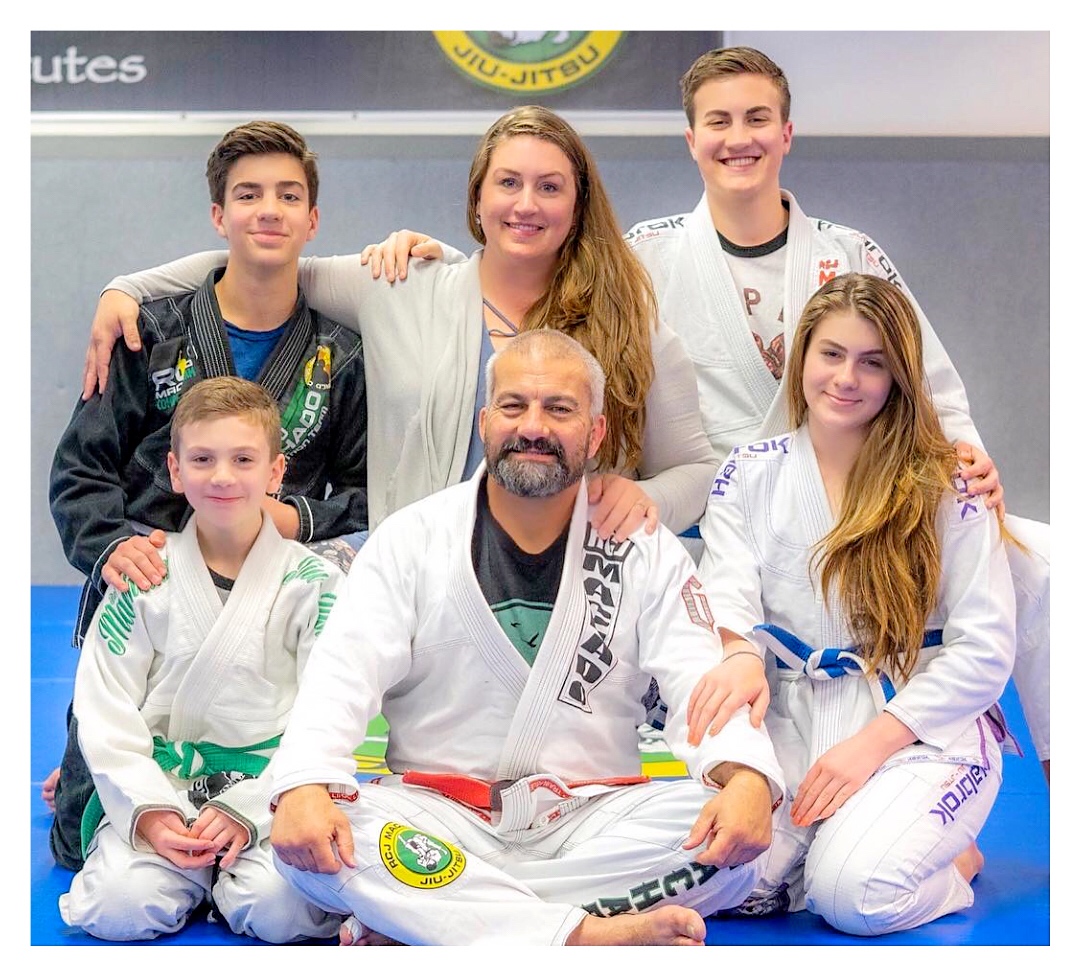 A proud father of 4 teenage kids and husband, Carlos Machado is currently a Coral Belt and is the head of one of the largest Brazilian Jiu-Jitsu organizations in the world, RCJ Machado and Carlos Machado Jiu-Jitsu Associations.
One of the main goals of Master Carlos Machado is to simply make the "Average Student, Above Average". His mission is also to teach his instructors to be the best they can be by mentoring them and instilling in them a solid foundation on many levels, which will greatly benefit not only their own students but also themselves individually on and off the mats and will ultimately enable successful operation of the many premium Carlos Machado Jiu Jitsu Academies in the United States and around the world.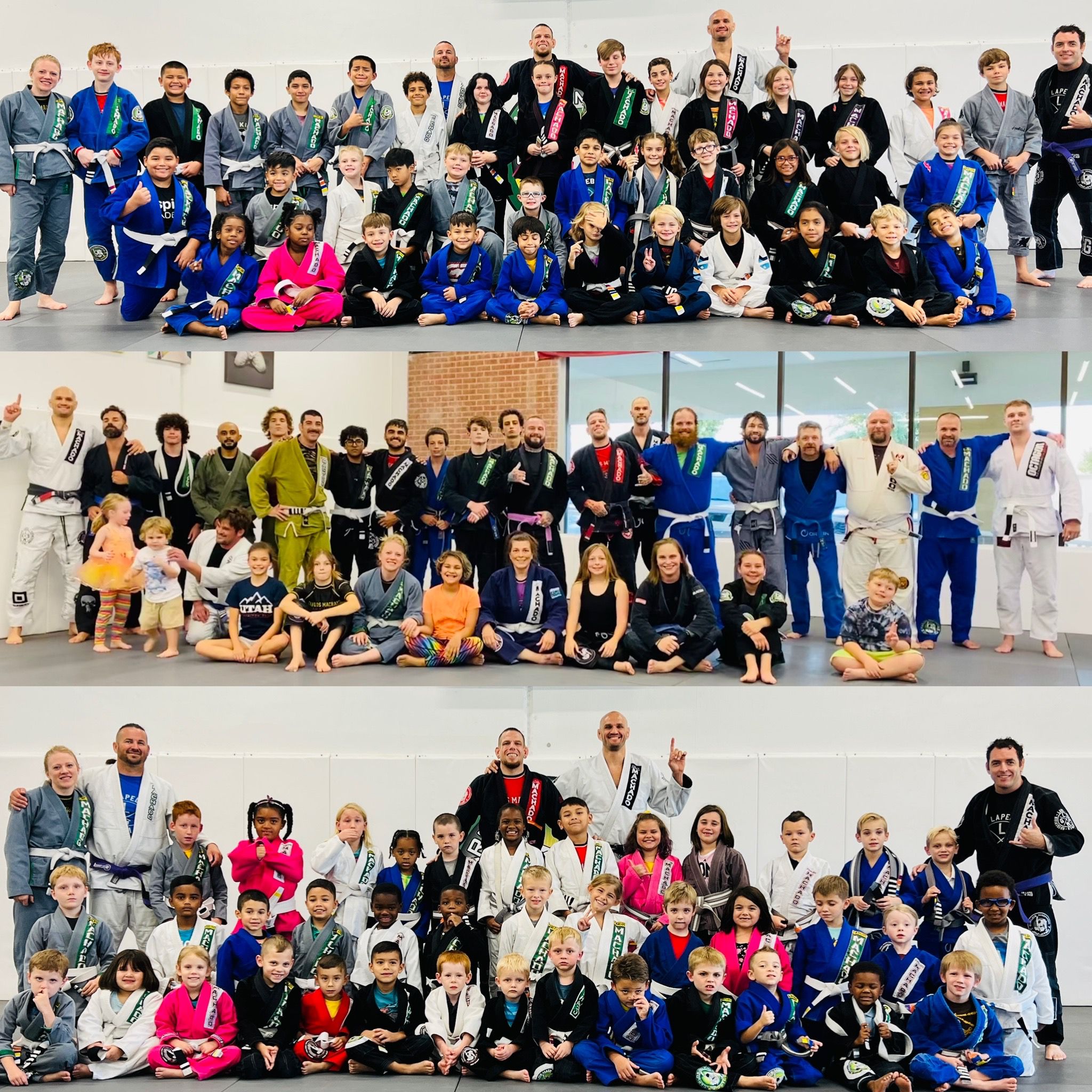 Professor Greg Hamilton BJJ is a 2nd Degree Carlos Machado Black Belt and is the head instructor of Carlos Machado Jiu Jitsu Mid Cities located in Bedford Texas.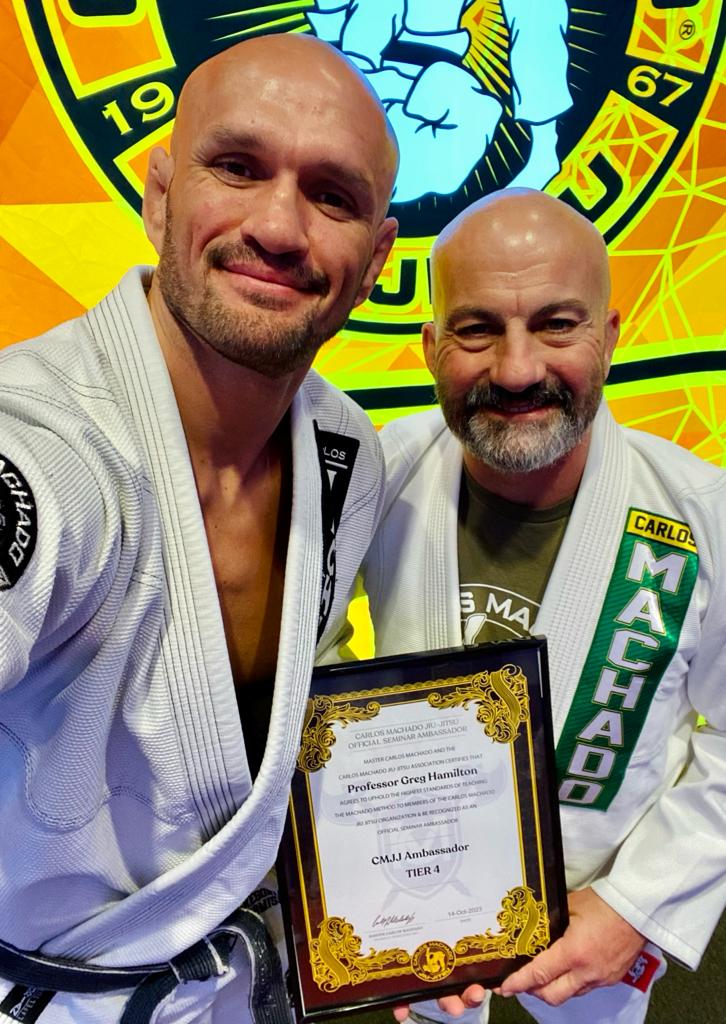 Professor Greg Hamilton BJJ founded the very first Carlos Machado Jiu Jitsu Affiliate that was NOT operated by Master Carlos Machado whose CMJJ Association currently has over 150 schools in the USA and world wide.
Professor Greg Hamilton BJJ is one of Master Carlos Machado's most dedicated Black Belts and has built one of the most elite academies in Texas and the USA, achieving the #1 Rank in Texas for the 2023 Jiu Jitsu World League Season as well as #1 Rank in Elite 8 for 2023.
Come and learn Brazilian Jiu Jitsu from the best and train with the best. Click below and TRY A FREE WEEK at Carlos Machado Jiu Jitsu Mid Cities here in Bedford Texas.
TRY 1 WEEK FREE!!! ZERO COST JUST SHOW UP!!!
CALL or SMS DIRECTLY AT: (214) 490-0601
Carlos Machado Jiu Jitsu Mid Cities Texas
2843 Central Drive., Bedford, TX 76021
www.CarlosMachadoJiuJitsuMidCities.com
Article Written by: Greg Hamilton BJJ, 2nd Degree Carlos Machado Black Belt & Head Instructor and Professor of Brazilian Jiu Jitsu
#1percentbettereveryday #Forwardistheonlyway #carlosmachado #carlosmachadojiujitsu
#carlosmachadojiujitsumidcitie #rcjmachado #machadojiujitsu #graciejiujitsu #ilivejiujitsu
#jiujitsufromthesource #bjj #jiujitsu #Blackbelt #ilovebjj #brazilianjiujitsu #bjjlife
#brazilianjiujitsulifestyle #jiujitsulifestyle #bjj4life #bjjlifestyle #Texas #Bedford #Hurst
#Euless #Colleyville #BedfordJiuJitsu #EulessJiuJitsu #ColleyvilleJiuJitsu
#HurstJiuJitsu #MidCitiesMartialArts #MidCitiesJiuJitsu #GregHamiltonBJJ
#GregorianLapelSubmissionSystem #TheArmRazorMatrix
#BJJFanatics #TheLapelSubmissionMatrixSystem